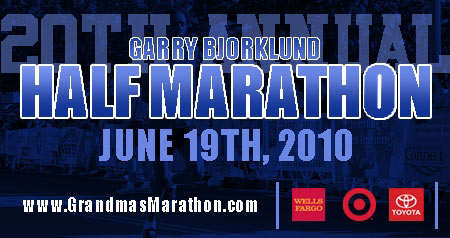 Today, I ran my first half marathon...a total of 13.1 miles. Why would anyone want to run that long? I have no idea, but it was on the list of things I wanted to do in my life.
It was quite the experience...full of highs and lows...and lows and lows and lows. It was a very challenging day...physically and mentally! It started when the alarm went off at 4 am...after a few hours of poor quality sleep. I can never sleep when I have a big event or when I am concerned that I might not hear the alarm. So, up and at 'em at 4 am.
I parked at one of the bus pick-up locations and got on board a bus right away. I shared a seat with a girl named Jenny, who had run the race before. She was very informative and it was great to have someone who knew what she was doing. The bus took us to the starting line area, where Jenny showed me where to drop off my sweat bag (a bag where you store your stuff during the race) and (more importantly) how to navigate the seemingly endless crowd in line for the ever-favorite biffies.
Here was my view near the starting line.
At 6:30 am, the race started and 5000 runners moved as one. The first 10 miles were actually okay. Initially, I felt like I could have gone harder. The competitor in me was ready to pass each person in front of me, but I wanted to pace myself so that I did not burn out at the end. Luckily, my common sense was louder than my ego, and I used my heart rate monitor to keep a steady pace.
It was during the last three miles that things started to get rough. The very last mile was THE longest mile of my life. I just wanted to call it quits. But I kept plodding on, and I met my goal: to finish.
While there were many times I questioned my sanity of taking on such a challenge, I was inspired by the people along the entire 13.1 miles that came out to cheer, the bravery of the people who were running beside me, the athletic prowess of the elite runners who finished in unbelievable times, and the event organizers who made everything run so smoothly.
After the agony in my legs subsided and I took a much needed nap, I can say that I am experiencing a great sense of satisfaction. Not for breaking any record or changing the world in any great way, but for setting a goal, dealing with the self-doubt, and pushing through to cross the finish line. It is a metaphor for life and how we live each day.
I've realized it is the choices make in those difficult moments that have such an impact on how things play out in life. Whether it is a physical, mental, emotional, or spiritual challenge, dealing with them head on is so important. From daily choices of what we eat to dealing with major crises, each moment is an opportunity for personal growth and positive change. We need to deal with things in each moment, each step, each thought. In that, we have the power to change our world and the world around us.
___________________________________________________
"Life is not about finding yourself.
It is about creating yourself."
–George Bernard Shaw
___________________________________________________
My favorite quote above is an eternal source of reflection and inspiration for me. Today, I created a stronger person. I reinforced that fact that I have the power to set a goal, question myself, experience difficult emotions, move forward through the unknown, and seize the opportunities that such challenges provide me. It has inspired me to reflect on the other decisions, events, and relationships in my life and ask the question, "Who do I want to be today?"
Who are you creating today?